Past Workshops & Retreats
These workshops and retreats are now finished.
Please check back for current or upcoming yoga events.
5 Elements Yoga Workshop
THIS WORKSHOP NOW FINISHED
April | 2017
This dynamic workshop will use the yoga practice to balance and harness the 5 elements which form the world around and within us: earth, water, fire, air and space.
Wild At Heart Retreat
THIS RETREAT NOW FINISHED
With Jazz Braden & Yeva Glover
2016 August 26-28 | Sechelt Inlet, BC
So thrilled to be heading back to the Sunshine Coast with my dear friend Jazz Braden for our second summer retreat at the Wilderness Resort. A celebration of summer is to be had completely immersed in nature and beauty. Daily yoga, nourishing meals, heart to hearts, wood heated hot tub sessions, paddle boarding, canoeing, fishing, the space to unplug, and much more…
Vinyasa for Pregnancy Workshops
THIS WORKSHOP NOW FINISHED
2016 (February & July) | Vancouver, BC
2-hour class of flowing, dynamic, and nurturing yoga. For mama's who like to move, this workshop will move through a creative and gently invigorating practice, as well as break down the specific modifications for pregnancy so that each mama can take these tools into any class and be able to take care of herself and her baby belly. Open to all stages of pregnancy, as well as to teachers or students wanting to learn more about how to modify the practice for pregnancy.
Mama's To Be- Connect to Your Intuition
With Yeva Glover & Susanne Meuller
THIS WORKSHOP NOW FINISHED
2016 May 29 | Semperviva Yoga
The journey through pregnancy and motherhood can be many things– challenging, beautiful, scary, unknown, empowering…  Through yoga, meditation, journaling, and community, learn tools to tap in to your own inner knowing and strength to be called on through out the journey.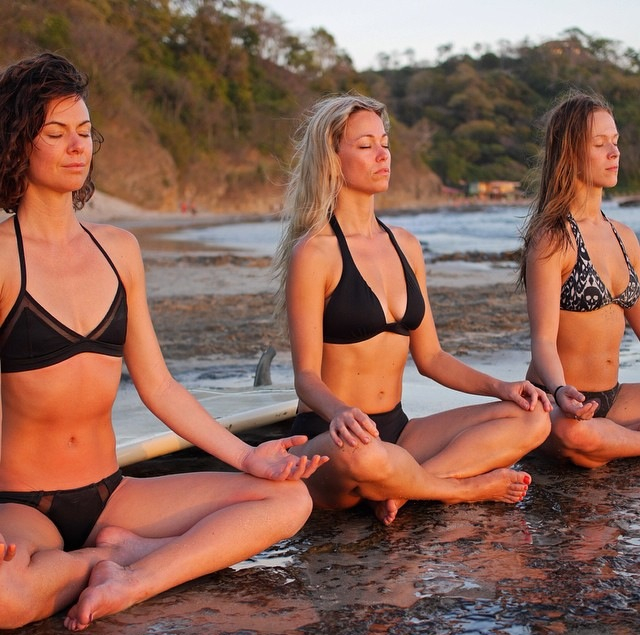 Nicaragua Yoga, Surf, & Adventure Retreat

With Yeva Glover, Rachel Wainwright, & Ariel Swan
THIS RETREAT NOW FINISHED
2015 (January 2-9) & 2016 (January 2-12) Maderas Village, Nicaragua
A beautiful 10-day retreat of yoga, surf, and tropical adventure in paradise! Daily Vinyasa and Yin yoga classes, beautiful meals, excellent people, and rejuvenating bliss! Start your year off right with this life enhancing retreat. For information, please visit:  exhaleyogaretreats.com
Maderas Village is boutique resort located on a hillside in the jungle overlooking Maderas Beach surf break. It's only a 5-minute walk to the ocean where some of the best surfing waves roll-in. It's a great setting to reflect, invigorate your creative juices, enjoy deep discussions, lose yourself in the moment and rediscover your true self. Both Maderas Village and Exhale Yoga Retreats are working together to provide the best possible experience for you to relax, enjoy life and have lots of fun. It will be good vibes & good times!
Fall Detox Wilderness Retreat
With Jazz Braden & Yeva Glover
THIS RETREAT NOW FINISHED
2015 (Sept. 25-27) The Wilderness Resort, Sechelt BC
Join Jazz Braden and myself for a transformative and healing weekend of deep yoga practice, meditation and beautiful meals, all in the most spectacular wilderness setting! We have joined forces to take a special group away into the wilderness. This retreat takes us deep into the natural bliss that only escaping into the forest or sitting by the ocean can create. We will spend our time nourishing every cell in our body with local foods, daily yoga and meditation practices, Ayurveda and self care talks teaching you how to take these tools back into everyday city life. Build a life you don't need to escape from! Unplug. Immerse. Recharge body, mind, and heart.
The Wilderness Resort is a one-of-a-kind getaway, offering 124 acres of pristine wilderness and one mile of ocean front within the Sechelt Inlet Provincial Marine Park. Walk or run through miles of forest trails, practice yoga on an outdoor deck, fish off the dock, watch the birds, kayak/canoe through pristine waters, and more! Unique accommodations include beautifully furnished Discovery cabins and Prospector tents. Getting there is part of the adventure! From Sechelt, a private boat takes us on a beautiful 40min ride to the resort. Please visit them at wildernessresort.ca for more details.
Meditation & Yoga Silent Retreat
With Jean Christian & Yeva Glover
THIS RETREAT NOW FINISHED
2014 (July 11-13)| Swanwick Center, BC      
The intention for this retreat is to bring together a small group of people for a quiet, contemplative weekend in a beautiful location. During this time we will practice meditation, silence, and yoga techniques that help to create balance in our lives. Through immersion in a silent retreat setting, where daily distractions are removed, we can begin to experience on a deeper level what yoga and meditation can do for us. This will be a weekend of silence, simplicity in food and action, and mindful awareness through everything that we do.
Jean Christian, CCH P.D. Hom, has been teaching meditation and leading silent retreats in northwest BC for the past 15 years. She is a classical Homeopath with a practice based in Smithers, a mother, musician, and author of three books. In addition to weekly meditation classes, Jean offers Life Guidance sessions.
Yeva Glover will be complementing this weekend of meditation with daily gentle flow yoga sessions to prepare the body for stillness and contemplation. Classes will include gentle instruction for all levels and breath work to cleanse and energize body, mind and spirit.
For more info and to register, go to wordsofhigherwisdom.com
Dive Deep Retreat!
Cleanse & Rejuvenate with Yeva Glover & Aili Storen
THIS RETREAT NOW FINISHED
2014 (Feb. 7-9th ) & 2013 (Oct. 18-20) | Galiano Island                           
Join us at Bodega Ridge for a weekend of powerful yoga, deepening meditation, and cleansing practices to guide us into Spring with lightness and clarity.
For more information, please contact galianoretreat@gmail.com
Break It Down!
Yoga Basics Workshop Series
THIS WORKSHOP NOW FINISHED:
2014 (Nov. 30) & 2013 (| Sept. 21) | Chopra Yoga Center
In this workshop, we will break down some of the most commonly used yoga postures to build understanding and knowledge of correct alignment, as well as how to use props as a tool to help your body access the postures. Geared towards beginners and those wishing to learn more about alignment. This workshop will focus on Hip Openers and Standing Postures.  To register, visit www.choprayoga.com
Yin Yoga Workshop                                          
A Practice of Deep Release & Letting go 
THIS WORKSHOP NOW FINISHED
2015 (March 22) & 2014 (Dec. 27) & 2013 (Oct. 5) | Full Circle Yoga Studio, Smithers BC
Yin Yoga is the perfect balance to our fast paced lives! It is a meditative, slow-paced style of yoga with longer held postures designed to release tension deep in the muscles and the connective tissue. This work-shop will be a well rounded approach to opening the main aspects of the body, as well as a turning inwards to cultivate our relationship to ourselves and to stillness. Open to all levels and abilities.
To register, email phillipabeck@gmail.com   or go to  www.full-circle-yoga.ca
Labour Day Weekend Yoga and Surf Retreat!

Hosted by Chris Duggan, Yeva Glover, and Shani Cranston
THIS RETREAT NOW FINISHED
2013 (Aug. 30–Sept. 2) | Tofino, BC   
Intro to Ayurveda Workshop
Indian Summer Festival, Van. BC
THIS WORKSHOP NOW FINISHED
2013 July 6 | SFU Goldcorp Center for the Arts
Just as each person has unique fingerprints, so do we have distinct emotional, energetic, and physical make-up. Ayurveda, the sister science to Yoga, is the ancient healing system of finding balance to create health and ease within the unique construction of each individual. In this class, Yeva will break down the basics of the three main constitutions, or doshas, and how to rough draft which dosha you are. You will learn about the primary elements within each dosha that can go out of balance and how to re-balance these elements, working with simple diet, lifestyle, awareness, and seasonal changes. Open to all!